The Malaysian Visa waiver programme, eNTRI for Indians has been extended till 31 December 2019. Fee for getting eNTRI (Electronic Travel Registration & Information) is 20 US Dollars, i.e. around 1450 Indian Rupees. Under this exemption feature, a visitor can stay in Malaysia for 15 days.
What is eNTRI
The government of Malaysia has provided this facility to Indian passport holders. According to the facility, Indians do not need a visa to visit Malaysia. Only an online registration has to be done before the journey. The printout of the online registration (eNTRI Note) is considered as the proof of registration. This document has to be presented upon arrival in Malaysia. This is available for only those Indians who reside in India.
Official link to get eNTRI for Malaysia
Immigration Department of Malaysia is the only official authority to give eNTRI. Be careful from the fake websites or agencies. The official website is –
https://www.windowmalaysia.my/evisa/evisa.jsp
. This is the only link to get eNTRI. You can fill up the form online and make the payment for eNTRI on this website.
Applicants residing outside India (Expatriate) must have a flight to Malaysia and return flight ticket from Malaysia to India or applied country.
Applicants residing outside India (Expatriate) must have a flight ticket to Malaysia and must have a return flight ticket to India or another country if travelling by Air
. The applicants are only permitted to enter Malaysia and exit Malaysia via the following Entry/Exit points:
Kuala Lumpur International Airport, Sepang (KLIA & KLIA 2)
Penang International Airport, Penang
Langkawi International Airport, Kedah
Melaka International Airport, Melaka
Senai International Airport, Johor
Kuching International Airport, Sarawak
Miri International Airport, Sarawak
Kota Kinabalu International Airport, Sabah
Labuan International Airport, Federal Territory of Labuan
Sultan Iskandar Building Immigration Checkpoint, Johor
Sultan Abu Bakar Checkpoint, Johor
Padang Besar Checkpoint, Perlis
Bukit Kayu Hitam Checkpoint, Kedah
Sungai Tujuh Immigration Checkpoint, Sarawak
Tedungan Immigration Checkpoint, Sarawak
How to apply for eNTRI Malaysia visa for Indian passport holders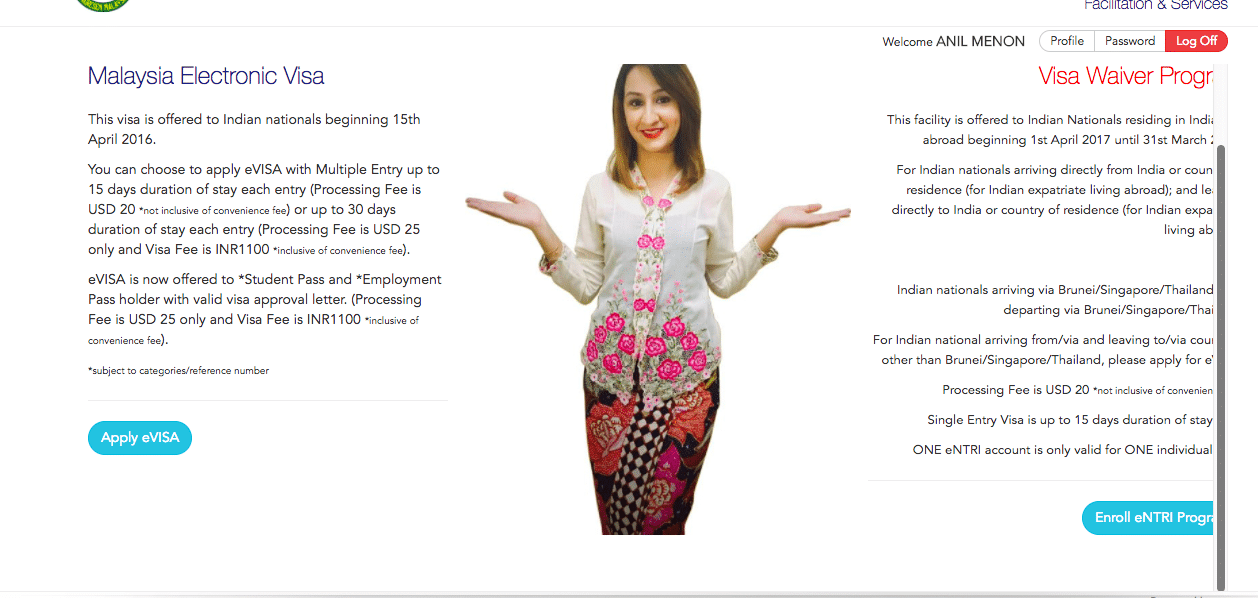 If you are a

new user

, register yourself. If you already have an existing account, you can log on by clicking on 'I am a returning user'. Please note that every login only supports one passport and one associated email address. If you are applying for multiple people, then you need to create different logins. (Trust me. I did this for 5 people.)
An email is sent for verification (once you register yourself) to the registered email address. Once verified, you may start filling all the details to apply for your Malaysia visa online.
Now login with your registered username and password.
Till here, the process is similar for both Malaysia eVisa and for Malaysia eNTRI visa from India.
Start filling all the details. You will need the below documents before you apply for eNTRI visa Malaysia.

A valid passport. The passport photo (not the applicant's photo) to be uploaded has to be in colour and all details in the first two pages of your passport should be clear.
Confirmed return tickets from India (in the case of Indian expats, confirmed return tickets to the country of residence).
Proof of Accommodation
Travel itinerary.
Please keep in mind: Only a clear passport photo with a clear white background is accepted.

Some screenshots for your reference.
Once you finished, pay the visa fees.

The Malaysia visa fees for Indian citizens (eNTRI) is approximately 20 USD

. You need an international credit card to pay this fee (Amex is not accepted).
Once the fees are paid, you will immediately get the Malaysia eNTRI note on your screen. An email will also be sent to the registered email address with the eNTRI note.
The entire process takes less than 15 minutes per application if you have all the details handy.
Malaysia eVisa for Indian Citizens
This is applicable if you want to stay for up to

30 days

and is valid only for single entry.
This is valid for

3 months

from the day your eVisa is approved.
Not applicable to Indian residents in Singapore.
How to apply for a Malaysia e Visa for Indian Citizens online
As mentioned before, the process of application is fairly similar for both eNTRI and eVisa.
One of the main difference is that here visa processing fees are included and it is approximately

45 USD

for Indian citizens.
It can take from

24 hours to 48 hours

to process your eVisa.
The

Malaysia Visa requirements for Indians

remain similar to eNTRI. You will need the birth certificate in case of minors.
Documents to keep with you when you Enter Malaysia by Air or by Land
Please keep the below documents ready when you are entering Malaysia by Air or by land.
Passport
eNTRI note (or eVisa)
Proof of Accommodation
Proof of funds (They didn't ask for this. But you never know when they will ask).
Boarding Pass
Confirmed return tickets
Your entire itinerary while in Malaysia
DISCOVER the Common Questions Asked during immigration